The public is keen to find out more about guests arriving at King Charles Coronation today, with various public figures trending on Google as they are spotted on BBC's livestream of the historic royal event. One of those people? Floella Benjamin, who has a starring role in King Charles coronation, carrying the Sovereign Sceptre with Dove.
Who is Baroness Floella Benjamin?
Baroness Floella Benjamin, Baroness Benjamin is a Trinidadian-British actress, presenter, and politician. She is best known as the presenter of children's programmes Play School. In 2010, she was introduced to the House of Lords as a life peer nominated by the Liberal Democrats.
Benjamin was appointed Officer of the Order of the British Empire (OBE) in the 2001 New Year Honours for services to broadcasting. At that time, she was chairperson of the British Academy of Film and Television Arts (BAFTA). Due to her illustrious career, she won a Special Lifetime Achievement award from BAFTA.
What is Floella Benjamin's role in the coronation?
Baroness Benjamin is among more than 50 people chosen to take part in the coronation proceedings, arriving wearing regal red and gold robes with a tiara. Benjamin, who chaired the Windrush Commemoration Committee, carries the sceptre traditionally known as the Rod Of Equity And Mercy, which represents his spiritual role.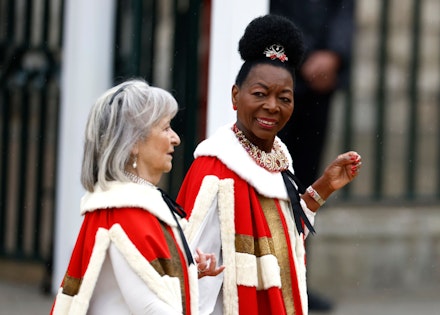 LONDON, ENGLAND – MAY 06: Baroness Dame Floella Benjamin (R), selected to carry the Sovereign's sceptre with dove, which represents spirituality, equity and mercy arrives at Westminster Abbey ahead of the Coronation of King Charles III and Queen Camilla on May 06, 2023 in London, England. The Coronation of Charles III and his wife, Camilla, as King and Queen of the United Kingdom of Great Britain and Northern Ireland, and the other Commonwealth realms takes place at Westminster Abbey today. Charles acceded to the throne on 8 September 2022, upon the death of his mother, Elizabeth II. (Photo by Jeff J Mitchell/Getty Images)
'I feel honoured and privileged to be part of the historic coronation ceremony,' she told Metro. 'To be selected to carry the Sovereign's Sceptre With Dove, which represents spirituality, equity and mercy, is for me very symbolic as it's everything I stand for and sends out a clear message that diversity and inclusion is being embraced.'
Why is Floella Benjamin a Baroness?
In the 2010 Dissolution Honours List, she was appointed a Liberal Democrat life peer, being created Baroness Benjamin, of Beckenham in the London Borough of Bromley. She was the first actress to become a peer in the House of Lords. In her maiden speech, she spoke of the importance of children's charities like the NSPCC, Childline, and Barnados, and how important their work to protect and support the health and wellbeing of vulnerable children is.
Who is Floella Benjamin's Husband?
A question that often comes up when any notable woman begins to trend, the public are also keen to know about Floella's dating life according to Google Trends. Benjamin married Keith Taylor, a stage manager, in 1980. They have two children together.