BENGALURU: With large IT services companies reducing their workforces in the first quarter of 2023-24, global capability centres (GCCs) – the technology arms of multinational companies – look set to outshine the rest of the Indian tech industry this year in hiring. The big four IT services companies combined had a reduction of nearly 18,000 people in the quarter ended June. Only TCS had a net addition – amere 523. Infosys, Wipro and HCL had headcount declines of 6,940, 8,812 and 2,506 respectively. The reduction in headcount is worse than even in the first quarter of FY21, when the pandemic struck.
On the contrary, many GCCs are hiring, and many new ones are entering India looking for talent. Lalit Ahuja, founder of workspace and HR solutions platform ANSR, expects GCCs to make an incremental addition of 4-5 lakh employees in FY 2023-24. He says irrespective of the economic cycles, GCCs work in conjunction with the enterprise's core programmes. Many global companies, he says, are likely to replace their onshore contractors with their GCC workforce.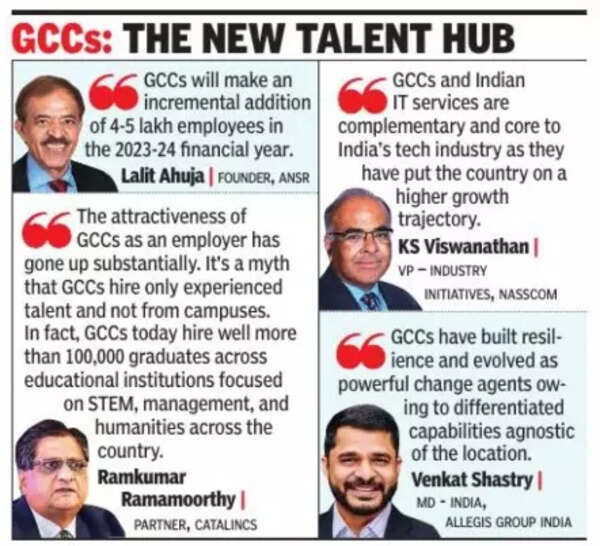 Ramkumar Ramamoorthy, partner at growth advisory firm Catalincs, says that as digital transformation is core to differentiation and growth, GCCs want to 'own' those capabilities rather than 'lease' them. "In the past three weeks, Citigroup, Deutsche Bank and NatWest announced plans to hire thousands of employees, adding to their combined headcount of over 60,000 professionals in India. Looking at the quarterly earnings of listed companies in the past two quarters, I am more than convinced that the incremental net headcount addition in GCCs this calendar year will be materially higher than that of traditional third-party IT/BPM companies," he says.
Nasscom's estimates show that of India's total tech workforce of about 5 million, the GCC talent pool is over 1. 6 million. India has 1,580 tech centres of GCCs, and that number is rising every month. US luxury retailer Neiman Marcus Group (NMG) established a GCC recently to develop a new digital playbook that enhances store, online, and omni-channel experiences. The company plans to hire 500 people for the Bengaluru tech hub in the next eight to 10 months. The $31-billion Inspire Brands, the second largest restaurant chain in the US with brands like Arby's, Baskin-Robbins, Buffalo Wild Wings, and Dunkin', recently set up a tech innovation centre in Hyderabad. India is home to about 25% of GCCs of global retail/CPG companies, employing over 50,000. About 63 retail and CPG companies have tech centres here .