On the heels of participating in a testing phase last year, Educational Insights is now using social commerce (s-commerce) platform TikTok Shop to turn its toys into viral successes. 
The LA-based manufacturer launched the first TikTok toy shop in April, in response to a beta invite from the social media giant. Educational Insights built its shop—which allows consumers to buy products directly through TikTok—around 17-year-old SEL toy brand Kanoodle. In the game, players pick a puzzle from an instruction booklet and then use provided shapes and pieces to complete the puzzle on the board. 
The toyco is already seeing a major sales boost for Kanoodle, thanks to the way it can tap into trends and ride the popularity of hashtags on the TikTok platform, says senior marketing manager Lee Parkhurst. 
Kids are on TikTok, and the way they seek out content that shows people having fun and playing makes it a great space for toycos, says Parkhurst. 
"For people my age, or in Gen Z, we use Amazon and Google to search for things to buy, but kids go straight to TikTok," he says. "They want to see products being used in real time, not brands trying to shove them down their throats. And I think Kanoodle has taken off because it's been fan-driven and real people are on the platform playing the game." 
Kanoodle began to pick up steam on TikTok in 2021 when consumers started making videos of themselves trying to beat the game everyday. To date, the Kanoodle hashtag on TikTok has generated more than 377 million views. And Educational Insights is now tapping into the platform's well of creators to extend its presence on the app. 
The company spotted influencers who were playing Kanoodle and teamed up with them. One such partner is Silentmath, a math teacher who uses Kanoodle to challenge her students (and her 1.5 million TikTok followers) with brain teasers.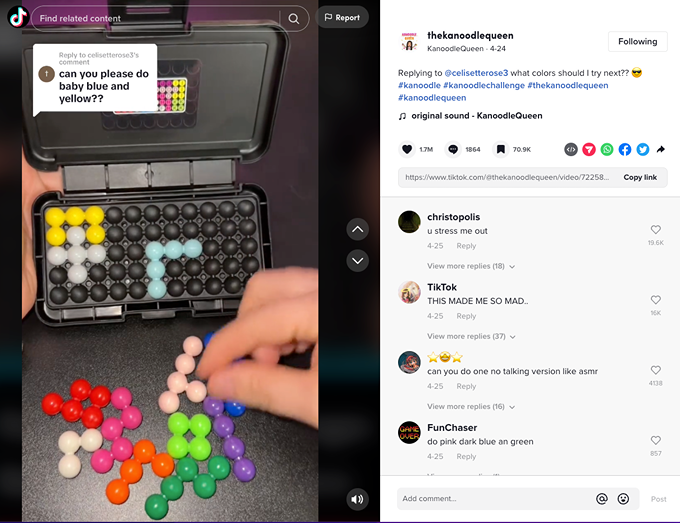 Since April, Educational Insights has signed deals with more than 1,100 TikTok creators through the app's affiliate program to sell Kanoodle on their individual shops. Each creator gets a 15% commission for every sale they make. 
Parkhurst says its influencer vids, and also user-generated ones, have caused Kanoodle sales to explode; we're talking 1,000% growth month over month. With more momentum for the game building on TikTok every day, Parkhurst says the s-commerce shop is creating a halo effect for Kanoodle in other marketplaces. In fact, the game was a top-selling toy on Amazon in June. And retailers like Walmart, Walgreens and Barnes & Noble are now hungry to carry every edition of the game. According to market research firm Circana, Kanoodle is currently the second best-selling brain teaser toy, behind only Rubik's Cube. 
Parkhurst predicts that TikTok Shop will be a direct competitor to e-commerce giant Amazon within the next 10 years. Last year, TikTok announced its plans to create fulfillment centers in the US to support its s-commerce business. And next week, TikTok Shop will also hold a one-week sale across the platform to compete directly against Amazon's Prime Day. 
Looking to replicate the success of Kanoodle, Educational Insights is testing what sort of TikTok engagement it can get for two of its other toy brands. The first is Playfoam, which is all about squishy sounds it thinks might appeal to ASMR lovers. The second is GeoSafari, which includes tools to build anthills and homes for butterflies. 
The company predicts audiences will be interested in seeing daily livestreams of insects building their homes, says Parkhurst. "We can't just push products that we think are really cool;[we need] ones that have a unique quality like comedy or education that creates satisfying content for TikTok's audience."